Jennifer Tucker
Program Director 06/2013 – Present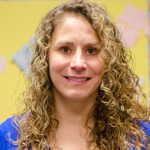 Jennifer began working at Woodside Children's Center in June 2013.  She has over twenty years of experience working in programs that provided before- and after-school care, vacation-week programs, summer camps, infant and toddler programs, preschool programs and family childcare. She earned her undergraduate degree from Westfield State University in Elementary Education & Psychology.
She currently resides in South Hadley with her husband and three children (ages 16, 13, 9). She is a volunteer soccer coach and treasurer for a Daisy Girls Scout Troop. Most evenings and weekends she can be found watching her children play hockey, soccer, basketball, lacrosse, and softball.
In her spare time she enjoys running, swimming and spending time with family and friends.
Brenda Corey
Infant Co-Teacher 09/2011 – Present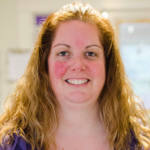 Brenda began working at Woodside Children's Center in September 2011. She has enjoyed getting to know all her co-workers and meeting so many new families. Of course she gets to care for so many cute babies each day!
Before Woodside Children's Center, Brenda spent 15 years at Creative Kids Preschool in Westfield, MA caring for 20 children ranging in age from three to five. She also spent a year in Georgia caring for infants.
Brenda lives in Easthampton as she has most of her life. She earned an associate degree in Early Childhood from Holyoke Community College. She is also Massachusetts DEE Lead Teacher Certified for Infants, Toddlers and Preschool. In her spare time, she enjoys traveling, the beach and sports, especially the New England teams–Go Sox!
Jill Drozdowski
Infant Co-Teacher 09/2009 – Present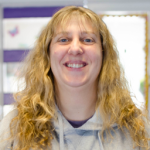 Jill has worked in childcare for 22 years, working with a variety of ages from infants to school age children. This is Jill's 6th year at Woodside Children's Center. Prior to working at Woodside Children's Center, she worked at Young World Childcare Center in Easthampton for 16 years.
Jill lives in South Hadley with her husband Kevin and Chocolate Lab Brady. Jill enjoys the beach, playing softball and the Red Sox.
Alanna Williams
Toddler Co-Teacher 2001 – Present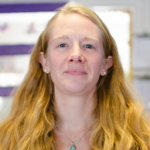 Alanna has been a toddler teacher at Woodside Children's Center for 11 years and has worked as a toddler teacher for over 15 years. She has a daughter and son in elementary school. Both her children attended Woodside Children's Center. Alanna enjoys music, dance, art and nature all of which she tries to incorporate in the classroom. When not teaching, Alanna enjoys hiking, African dance class and yoga!
Jennifer Hayden
Preschool Co-Teacher 09/2006 – Present
B.S. Keene State College (Early Childhood/Psychosocial Health Science) 2005
M.A. Certificate Antioch New England (Autism Spectrum Disorders) 2010
MA DEEC (Certified Lead Teacher Infant/Toddler, Preschool, Director 1 & 2)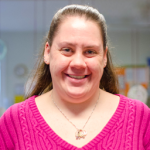 Jennifer graduated Cum Laude with a B.S. from Keene State College in Keene, New Hampshire in 2005. After graduating, Jennifer worked at Young World Child Care center as an assistant preschool teacher before working at her current position as a toddler teacher at Woodside Children's Center.
Discovering her passion for autism, Jennifer went back to school to pursue a certificate in Autism Spectrum Disorders in 2010 from Antioch New England. She has set the goal of finishing her masters degree in her near future in the field of autism. Jennifer volunteers at the Three County Fair, ushering at the Calvin Theater and Mountain Park, and is at the beginning stages of establishing a team for the "Walk to End Alzheimer's" events in the near future. In her free time, Jennifer enjoys going to concerts, listening to local bands, working out at Pioneer Valley Crossfit, crocheting and watching movies.
Caylin Lee
Preschool Co-Teacher 2013 – Present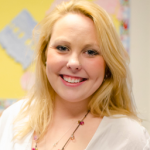 This is Caylin's second time teaching at Woodside Children's Center. She is excited as ever to be back in the preschool classroom.  Caylin is a graduate of Holyoke Community College. She holds an associate degree in liberal arts and science. She is currently continuing her education at the University of Massachusetts Amherst where she is studying elementary and early childhood education.
Outside the classroom, Caylin enjoys her love of music, art and theater. Caylin taught herself guitar and started writing songs at the age of 10. For 13 years, Caylin has been writing songs to perform them with her sisters and their band, Red Wine and Lace. Caylin has also starred in many musicals such as Rent, High School Musical, The Music Man, and many more. Behind the scenes of production, Caylin likes to design makeup, hair and painting sets. Caylin is overjoyed that teaching allows her to bring her love of music, art and theater into the classroom every day.
Allie Crowner
Allie began working at Woodside in the Summer of 2014 as an aide. After receiving her teacher's certification, she became a part of our fulltime staff and is currently in our Preschool class. Allie has enjoyed her time at Woodside, and loves working with her students. Becoming a part of the Woodside team has encouraged her to continue her schooling and earn a degree in Early Childhood Education.
When Allie is not at Woodside, she enjoys relaxing at home, cooking and reading.
Magdalena Noskiewicz
Magda started working at Woodside Children's Center in April 2016. She has worked in childcare previously in Ct at Carr's Crayons and Paints for 3 years. She has worked in the toddler room as well as the baby room. She enjoys working with children at any age. Magda has been living in Amherst for the past 7 years and has a 9-year-old daughter. She enjoys music, hiking yoga, reading in her spare time. Magda is very happy and excited to be a part of Woodside.